Working on both sides of the divide between PR/Marketing and professional blogging, it has been shocking to realize how much miscommunication exists around the budding Business of Blogging.
PR/Marketing reps often decry the lack of professionalism and poor ROI of their partnerships with bloggers. They share tales of demanding, diva-like behavior, rookie mistakes, and an overall focus on getting free stuff over business acumen. The vast majority wish they had better resources for vetting high-quality influencers they could work with.
Many influencers feel undervalued and misunderstood by an industry that has been slow to adapt to digital media, insisting that they should be paid for their work. They claim that these companies are simply choosing the wrong bloggers to work with. They blame brands for focusing on easily-gamed stats (traffic, social media followers, etc.) rather than more important intangibles, such as brand alignment, content quality, and professionalism.
According to a recent study conducted by Nielsen, influencer marketing content delivers an ROI 11 times higher than traditional forms of digital marketing. But both sides of the influencer marketing divide have ample room for growth in improving the Business of Blogging. So we decided to gather some hard data that might help us develop a better blueprint for future blogger/brand partnerships…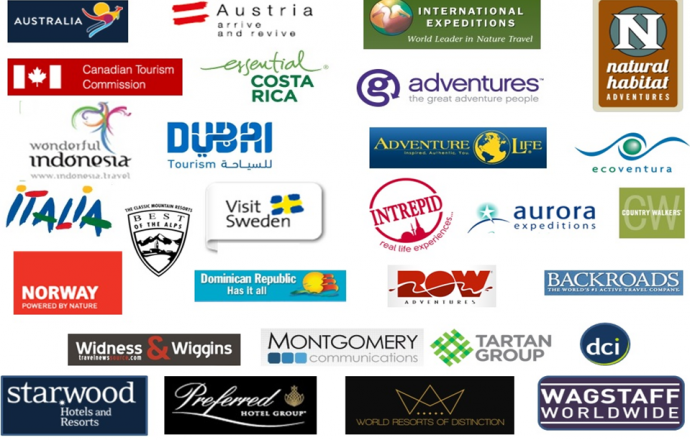 BUSINESS OF BLOGGING SURVEY BACKGROUND
In October 2014, we gave a presentation at TBEX Athens on "How To Build a Better Blogging Brand." This talk has since evolved into a hands-on brand-building workshop we've taught at TBEX Costa Brava and TBEX Manila, and which we'll be teaching at TBEX in Killarney, Ireland later this year.
To make our talk more beneficial, we sent a survey on brand/blogger partnerships to over 2000 travel industry PR and Marketing representatives. In April 2017 we did a follow-up survey for our Closing Keynote at TBEX Huntsville, to dive a little deeper into some of our questions and see how the Business of Blogging has evolved over the past 2.5 years.
Combined, these two surveys received over 250 responses from some of the world's leading travel brands, including the Costa Brava Girona Tourist Board, Visit Norway, Visit Sweden, Costa Rica Tourism, Australia Tourism, Alaska Airlines, International Expeditions, G Adventures, Intrepid Travel, Starwood Hotels, Preferred Hotels, and several of the industry's largest PR agencies.
Many of these companies are at the forefront of working with influencers. So we thought it would be important to get their insights on where brand/blogger relationships are now, and where they might be headed in the future. The info we gathered is more than enough to fill a whole book on the subject, but here we'll share some of our more significant data:
BUSINESS OF BLOGGING SURVEY RESULTS
1) In the past 12 months, how often have you worked with bloggers?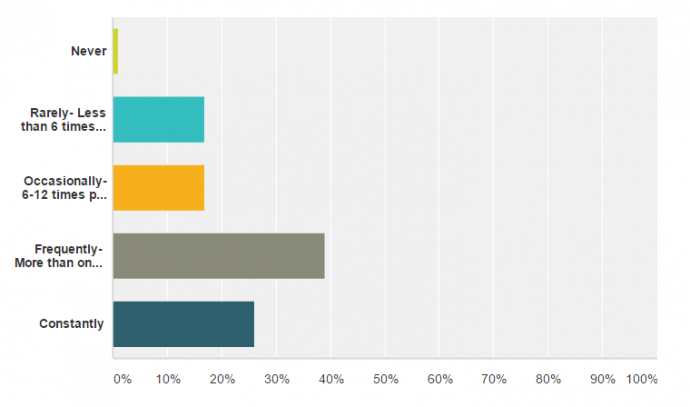 Just 1% of our respondents said they'd never worked with bloggers before, and only 17% said rarely. But 39% of these companies had worked with bloggers more than once a month, and 26% said they had worked with bloggers constantly. In 2014, 36% worked with bloggers more than once a month, while only 19% worked with bloggers constantly. In short, these numbers are slowly but steadily climbing.
2) Do you anticipate that you'll work with bloggers more frequently in the coming year?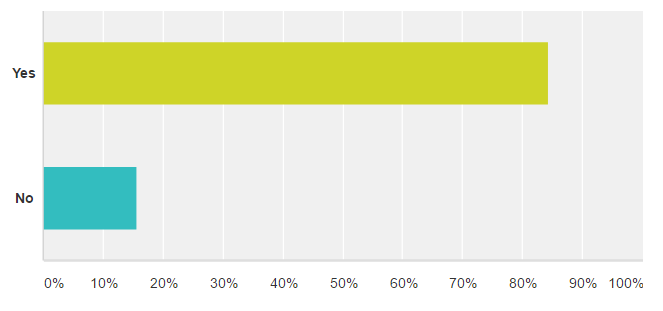 A whopping 84% of the brands we surveyed anticipated they would work with bloggers even more often in the coming year. This marks a 2% increase on our 2014 survey result. This suggests that there will be continue to be more and more opportunities for professional bloggers in the near future.
3) How do you find bloggers to work with on a given campaign?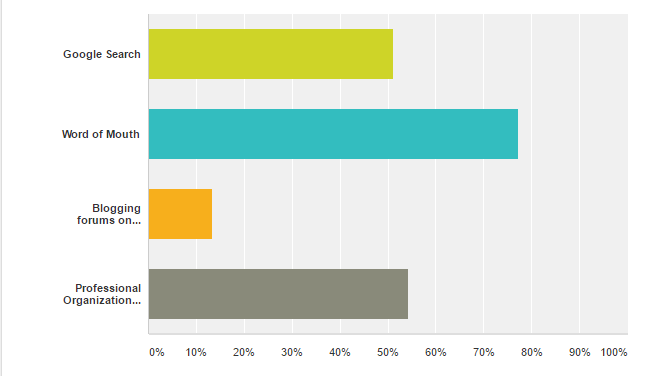 Word-of-mouth was the most popular response, with 77% of our respondents using that method. Around 54% used professional organizations and events, such as the Society of American Travel Writers or the TBEX travel bloggers conference. And 51% relied on a simple Google search. In short, the professional reputation of a blogger in PR/Marketing circles plays a key role in ensuring they get partnership opportunities.
4) On a scale of 1-10, how important are these statistics when choosing bloggers to work with? 
Unsurprisingly, Traffic and and Social Media Followers were ranked highest here despite the fact that these two statistics are the most easily gamed by bloggers. Demographics and external freelance outlets ranked third and fourth, respectively. It seems that many PR/Marketing reps do not yet understand the value of Domain Authority, which measures the prestige of a website, the quality of its content, and how it will compete in search engines for a given topic. We believe this metric will become increasingly important in evaluating a blogger's true influence over purchase decisions.
5)  

On a scale of 1-10, how important are these intangible elements when choosing bloggers?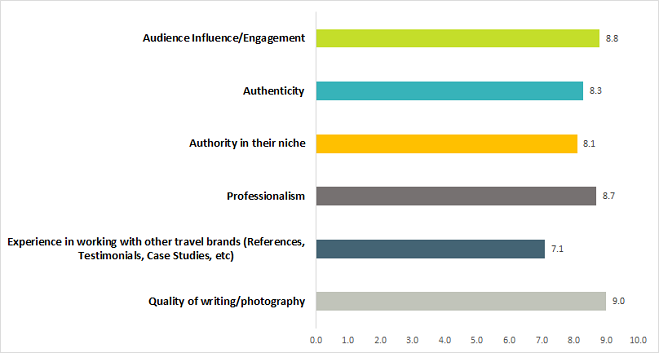 One of our more intriguing survey results was the ranking of "Intangible" factors. With an average of 9.0, Content Quality rated higher on the respondents' scale of importance than Traffic (8.8), while Influence/Engagement rated equally important as Traffic. And Professionalism, which received an average of 8.7, rated higher than Social Media Followers (8.4). We were pleasantly surprised to see so many of these intangibles ranking higher than some of the hard stats.
6) Which of the following services have you paid bloggers for in the last year?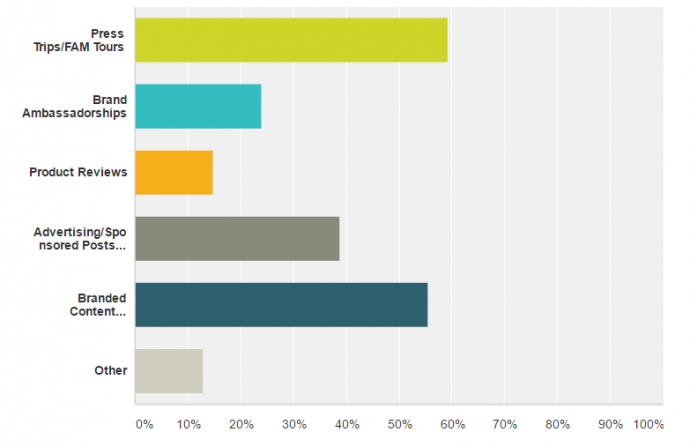 The most important statistic here is one you won't see on the chart: 46% of all respondents left this question blank, insisting in the comments that they don't pay bloggers at all. Of those who did respond, 59% paid for Press Trips/FAM Tours, 56% paid for Branded Content creation (blog posts, photos, and/or videos), 39% paid for advertising (usually in the form of sponsored posts and paid social media promotion), 24% paid for Brand Ambassadorships, 15% for Product Reviews, and 13% for Other things (including e-books, Instagram takeovers, and attending meet-ups).
7) What percentage of your marketing budget is earmarked for working with bloggers?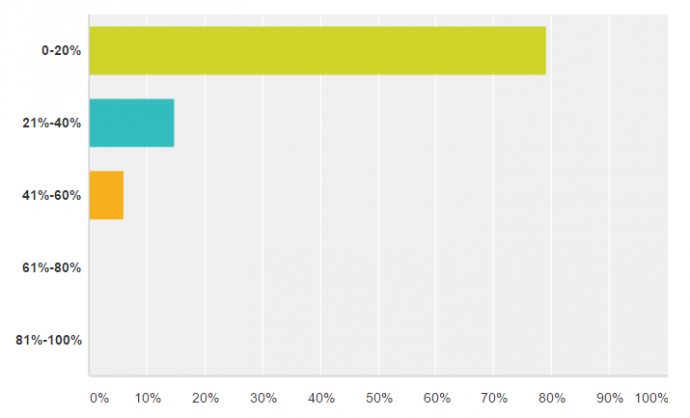 Here's the bad news: 79% of our respondents said that less than 20% of their budget goes for paying bloggers, and many of those had no budget whatsoever. (If we could re-do our survey, we'd reword this question so that ZERO was a separate answer.) Around 15% of them use 21-40% of their marketing budget to pay bloggers for their services, and only 6% had 41-60% of their total budget earmarked for blogger campaigns.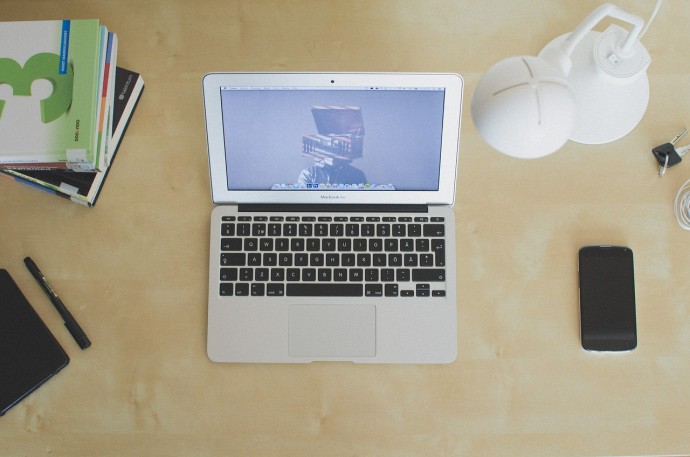 BUSINESS OF BLOGGING SURVEY INSIGHTS
There are some simple conclusions we can draw by comparing the results of our 2014 and 2017 surveys:
• PR and Marketing reps are working with bloggers more often now than they were 2.5 years ago, and most expect that frequency to increase in the coming year.
• Bloggers' traffic and social media followers remain important stats , but many companies are placing increasingly high value on demographics and other aspects of brand alignment.
• Intangible elements such as authenticity, authority, and professionalism are now considered just as important as traffic– a major shift since our last survey.
• There are more and more companies wanting to work with bloggers, but most of the brands we surveyed have little to no budget for paying them.
• Those companies that do pay bloggers primarily hire them for press trips/FAM tours, creating branded content, and advertising (usually in the form of sponsored posts or paid social media promotion).
The problem for bloggers is that, with thousands of new people entering the field each year, there's ever-increasing competition for a relatively small pool of paid projects. The question is, why isn't the $7.6 trillion a year travel industry investing more in influencers? The fill-in-the-blank portions of our survey provided some enlightening answers, which we'll share in a future post.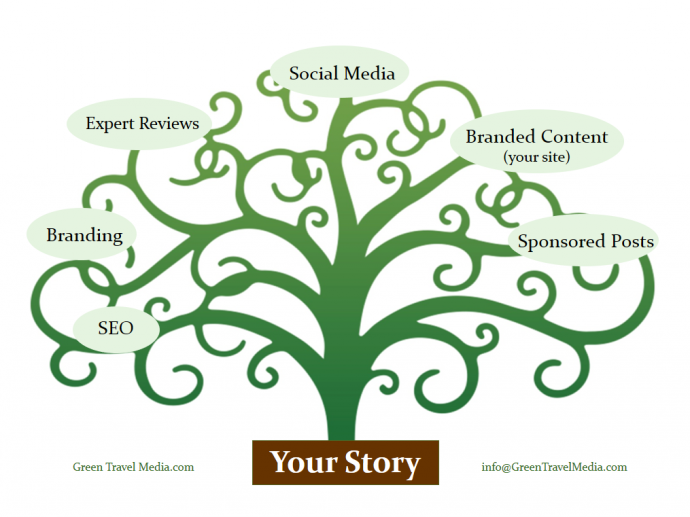 BRAND-BASED SOLUTIONS
One of the biggest problems PR and Marketing reps expressed in their survey responses was the difficulty in vetting influencers and finding partnerships with professionals who can deliver impressive ROI. That's precisely why we launched Green Travel Media in 2014.
Green Travel Media is a bespoke digital media agency offering turnkey solutions for integrated Content Marketing, Social Media Marketing, Influencer Marketing, and SEO.
Our team is made up of respected journalists, editors, photographers, videographers, graphic designers, and social media experts from around the world. All of them have engaged followers, extensive knowledge of social media and SEO, and an ability to use engaging storytelling and journalistic research to inform and inspire readers.
Our clients have included tour operators (Discover Corps, International Expeditions, Zegrahm Expeditions), DMOs (Costa Rica Tourism), and conservation NGOs (Great Plains Foundation). Feel free to check out Our Team, our Services, and our Case Studies for more info.  –Bret Love
If you're interested in learning more about Green Travel Media and how we can help you meet your marketing goals, please email us at info@GreenTravelMedia.com.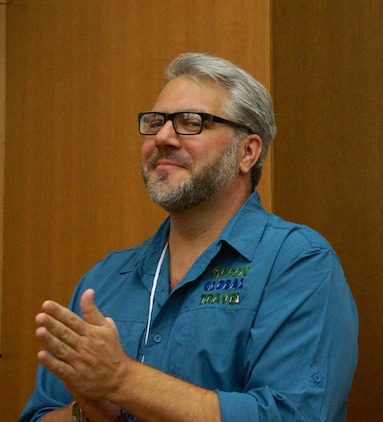 Managing Partner Bret Love is a journalist/editor with 21 years of experience at over 100 publications (including the Atlanta Journal-Constitution, National Geographic, and Rolling Stone). He's built Green Global Travel into one of the world's Top Travel Blogs by combining inspiring storytelling, sound SEO, and innovative social media strategies  He's become increasingly in-demand as a speaker/teacher on branding, digital media marketing, responsible travel, and brand/blogger partnerships. He's also made a name for himself managing marketing campaigns for companies such as International Expeditions and Zegrahm Expeditions. Bret oversees all Green Travel Media projects personally, ensuring quality control and professional execution throughout every stage of our campaigns.